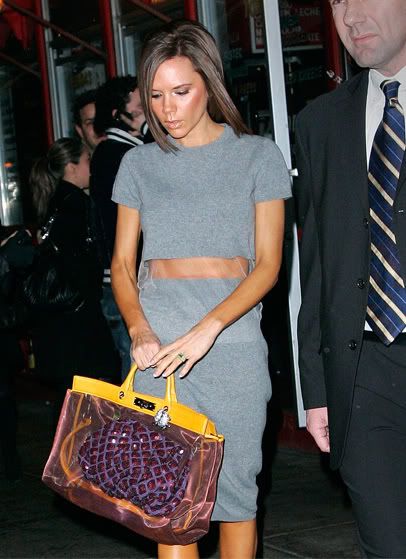 Prior to Victoria Beckham's appearance at Saks Chicago on Friday 15th February for her dVb line, she had an interview with the
Chicago Tribune
.
Here it is:
"Sexiness comes from within, it's a confidence,"
she says.
"If you feel sexy, you give that off."
The line, produced under her lifestyle brand dVb, includes several styles, such as bootcut and skinny, in a variety of washes and colors; average price, about $285.
What makes them different, Beckham insists, is her intimate understanding of the medium.
Basically, Beckham loves jeans. She wears them to ferry around her kids (who could be heard in the background during a phone interview), attend special events, with flip-flops, with high-heels. And she has designed her own jeans to fit the way she believes jeans should: tight enough around the knees, long enough to hit the floor and loose enough around the waist to prevent the horror that is muffin top.
"There's not a single button or rivet on these jeans that I haven't tested or seen myself,"
she says.
Even the logos -- a stylized star and her signature -- aren't over-the-top.
"I didn't want things to be too over-labeled,"
she says.
"The logo is small, my name is small -- everything is subtle, very clean looking."
This attention to detail is all part of what she hopes will ensure the longevity of her brand in the fickle world of fashion, and likely how she landed spots in exclusive stores like
Saks
and
Henri Bendel
.
"I am very proud of myself,"
she says bluntly.
"If three years ago you said to these stores, 'You're going to be selling Posh Spice's jeans,' they would have laughed."
dVb denim makes its Chicago debut at Saks Fifth Avenue's Michigan Avenue store on Friday, alongside the local launch of dVb sunglasses, her ubercool collection that, yes, includes a few oversized styles.
And Beckham, who's performing with the Spice Girls that night at the United Center, intends to be there from noon to 1 p.m. to personally present her designs.
Not appearing at Saks with her: David Beckham.
"It'll be the first time we haven't been together on Valentine's Day,"
she says of her hottie footballer husband, whom she married in 1999.
"It will be very sad."
Thanks to Karolinka for the pictures.
Victoria is wearing another
Marc Jacob
s dress and she has but down her Birkin to carry a bag by
Marc Jacobs
.
Source
&
Source