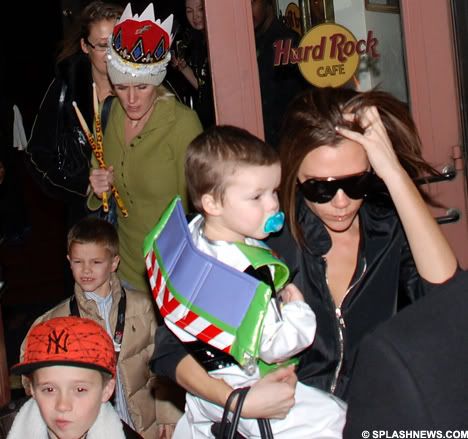 Cruz Beckham celebrated with Spice children Beau Lee, Bluebell Madonna, and brothers Brooklyn and Romeo at the Hard Rock Cafe in Washington DC yesterday.
He was carried out of the restaurant, dressed in a Buzz Lightyear costume from the Disney film Toy Story, and sucking a dummy, in his mother's arms as the group left the restaurant following the birthday lunch.
Geri brought daughter Bluebell Madonna, who wore a cute fake fur jacket, and Emma's son Beau Lee was decked out in a baseball cap tilted to the side, and New York Yankees sports jacket.
Mel B turned up without her children, while Mel C, the only Spice Girl without children appeared to have passed on the invitation to a noisy children's party.
Source