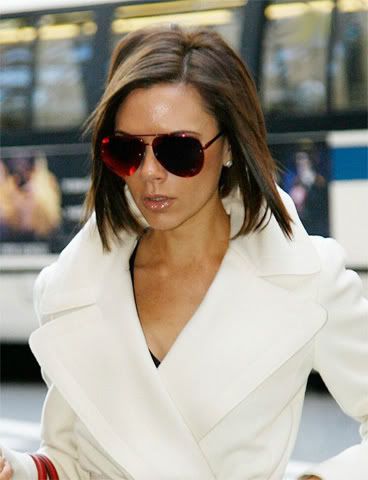 Victoria Beckham is stunning here in this woolen winter white belted coat with red aviator sunglasses and matching Hermes Birkin bag.
I love the red glasses, I have to get a pair of those.
She headed off to my favourite department store
Bergdorf Goodman
(never understood the appeal of Barneys) for some early morning shopping in New York City today.
Victoria Beckham did not attend Mel C's solo concert in New York on Saturday and as a result this has fuelled rumours of a rift between her and the other Spice Girls.
Emma, Geri and Mel B all turned up at the Manhattan Center to support their fellow bandmate.
They whooped, cheered and gave the singer a standing ovation at the end of her set, which was performed to a half-empty auditorium.
Personally I do not see the big deal. A few weeks ago she went to Mel's solo gig in LA, so she has seen the show.
Victoria is also looking after Cruz and maybe just wanted a little 'me' time with the little guy, what is so wrong with that?
Don't they know it is exhausting being fabulous and that she has carried the other 4 for far too long now. Mel C would not even be playing in New York if it was not for the Spice Girls reunion, so she should just be happy with that.
I am on a Victoria Beckham defensive from now on. I am tired of her getting the blame for this tour ending.
Source
&
Source