Victoria and David Beckham recently spoke about their new perfumes.
In an interview Victoria said;
"We created them when we were living in Spain".

"I would go to the factory in Barcelona and work with the perfumiers, and I would draw bottle and packaging ideas to show David".

"And he loved it because he got all these little sample bottles,"
she said.
"I did,"
David replied.
Victoria goes on to say that her grandmother inspired the white flower "base" of her perfume.
Intimately Beckham Night
was shot by notoriously saucy snapper Terry Richardson.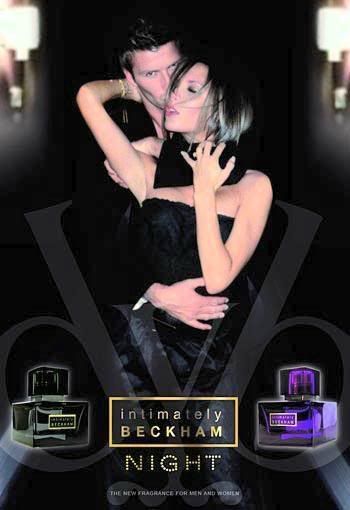 So what's behind this new, sexier image?
David explains:
"Obviously not many people see this side of us and I think that's what's great about having a fragrance like this".

"That box, the bottles – it's a way of us showing our dark side,"
he says.
David then goes onto say that since his contract with Gillette ended he relishes not having to shave every day.
I was not a fan of the ad for the perfume, but the other pictures are hot. despite David's eye make-up.
Source