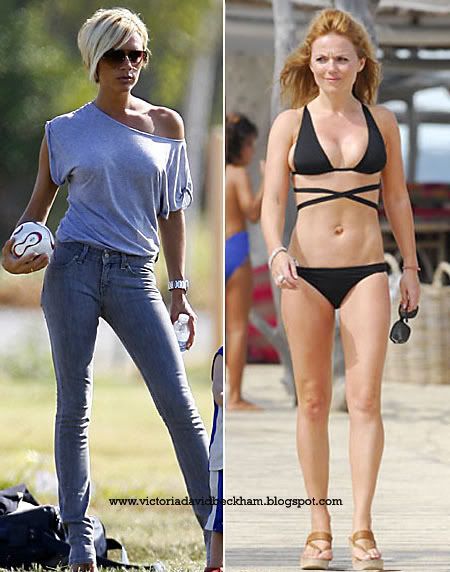 After vowing for years that she would never join a gym, Victoria Beckham has finally acknowledged that with the grueling tour coming up she will have to be in top shape to meet the physical demands of the tour.
She has joined the £1000 a month 'LA's Sports Club'. The gym offers a state of the art simulated skiing machine complete with a revolving artificial slope.
She has signed up for a course of candlelit stretching classes, performed to the strains of a string quartet playing in the background. How relaxing.
Apparently Posh was kicked into action by Spice Girl Geri Halliwell who has been working hard to regain her washboard stomach.
Posh has admitted in the past that she does not body. Last year she told Australian
Harper's Baazar
magazine
that after that having three children, and then losing so much weight afterwards she was has left a rather unsightly stomach.
"I've got so much saggy skin on my stomach."
She continued,
"
I have no bum at all. I might fit into jeans but, trust me, I look really awful naked."
She told the Daily Mirror recently:
"I really don't like the gym, in fact I can't stand it."

"Maybe it's the whole getting sweaty thing, but it's just not me. I tried cycling in Spain but maybe my bum's too small as it just wasn't comfortable."

"I want to get fit, though, so I'm exploring some different options. I like what I've heard about Pilates - just sitting in a room, stretching and breathing. Sounds much more civilised."
I totally agree with her. I hate the gym and you would never catch me on a running machine or treadmill. I only go for the yoga and pilates classes, like Posh said, much more civilised. I did not know we were so much alike.