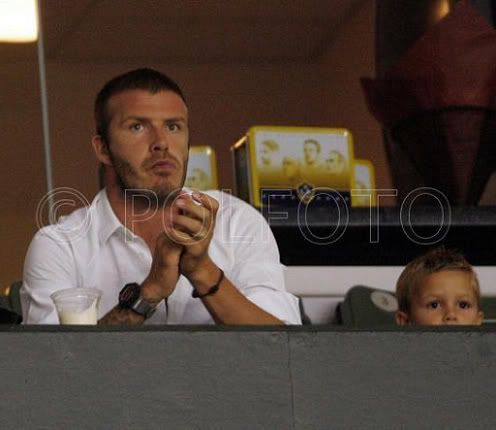 David Beckham watched LA Galaxy lose 2-1 against Real Salt Lake, as he sat in his luxury box with his sons, Romeo and Brooklyn yesterday on Romeo's birthday.
Earlier in the day David and Victoria Beckham took the kids out for Romeo's birthday lunch at the friendly family eatery
'The Cheesecake Factory'
in Beverly Hills.
The birthday boy was dressed for the occasion looking very smart wearing a suit jacket. David carried baby Cruz out of the restaurant and made sure all the kids were belted up in the back of the car before they drove off in his Navigator.
The UK Observer has an exclusive interview with David Beckham which you can read
here
.
About Victoria:
"I haven't seen Victoria happier than this in the 10 years we've been together. That on its own makes having come here (LA) worthwhile."
About his decision move from Real Madrid:
"Real Madrid stalling over a new contract last season was probably what started me thinking, 'Maybe I do need something new, a new challenge. A fresh start somewhere else that would get me excited all over again.'"
Leaving Real Madrid:
"To have left Spain without winning anything would have left a big gap in my career. I know while I was in Madrid I'd say to people, "Well, even if I don't win anything here, I'll have played for one of the biggest clubs in the world alongside some of the biggest players in the world, and had an amazing experience." All that might have been true but I was lying, wasn't I? Of course I always wanted to win something! I'd have been gutted to have left Madrid without winning a trophy."