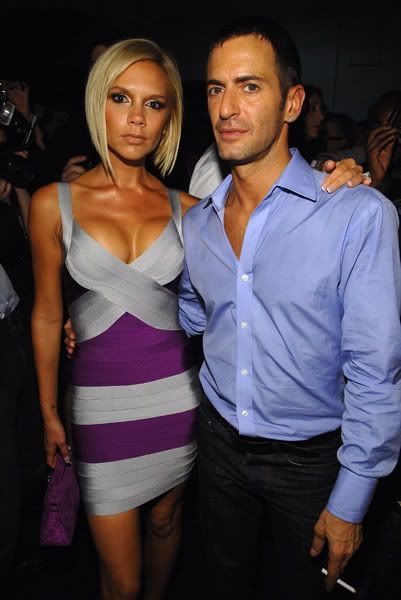 WOW.
Doesn't she look
AMAZING
? Thank god she came and added the missing glamour to New York Fashion Week.
I
adore
her outfit. Victoria arrived at Marc Jacobs show wearing a Herve Leger dress, and carrying the cutest mini suede Hermes Kelly Pochette, which matched her outfit perfectly.
Marc Jacobs Show was by far the most star studded of Fashion Week. Those in the front row included:
Anna Wintour, Carmen Electra, Courtney Love, Deborah Harry, Elisha Cuthbert, Heath Ledger, Helena Christensen,
Kelly Bensimon
- who the
New York Post
posted an article about saying David was eyeing her up at a restaurant. Michael Stipe, Michelle Rodriguez, Michelle Trachtenberg, Mischa Barton, Russell Simmons, Sheryl Crow and Simon Le Bon.
I know the nature of the Herve Leger dress is a "bandage", but is anyone in agreement with me the Victoria's boobs are smaller? I thought so even in the Oscar De La Renta dress, but I was waiting for another dress to confirm. What do you think? If so maybe this would answer the reason why we have had no sightings for a few weeks. Just saying.
Source
&
Source