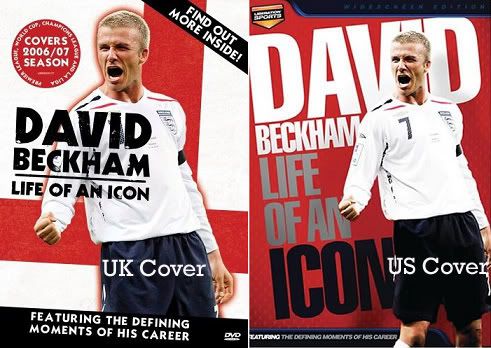 David Beckham has a new DVD called
'David Beckham: Life of an Icon'
. It is currently available in the UK and will be available in the US on the 6th November.
For some reason the US cover of the DVD does not have the St. George's flag which appears on the UK cover. I am sure you US David Beckham fans wouldn't mind a bit of UK pride.
The DVD brings David's amazing story right up to date to feature his shining moments from 2007, including being voted Britain's Greatest Ambassador, the closing of his final season with Real Madrid and being recalled to the England team for the key World Cup qualifying matches.
Personally I think this DVD is slightly premature. I think it should have been release after he reached the elusive 100 caps.
In English football only Peter Shilton, Bobby Moore, Bobby Charlton and William Wright have over 100 caps. Once David reaches 100, then he can really be considered an
Icon
.
Buy the UK DVD here.
Pre-order the US DVD here.
Source