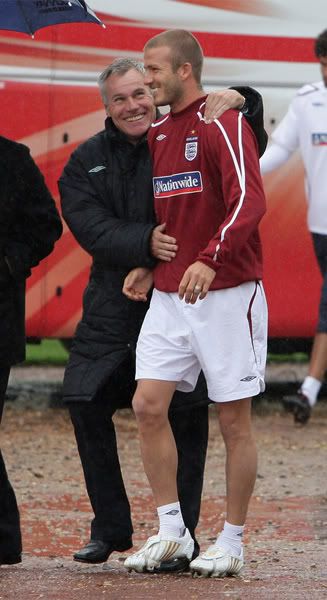 For those of you who were wondering why David Beckham was not at Kingston Rossdale's birthday party, it was because he is in England training with the England squad, ahead of tomorrow's game against the United States.
One of the coaches, Peter Taylor looks very happy to welcome David back to the squad during a training session at Arsenal's training ground. I am equally happy, as to see David in his England kit is a beautiful thing.
Fabio Capello has often said that just because David has traveled from the US to the UK, that does not guarantee him a place in the team, so David needs to work extra hard in training.
David will miss 2 games for the LA Galaxy. Tonights game with Colorado Rapids and Saturday's game with Toronto FC, as England's second game against Trinidad and Tobago is on Sunday.
I personally am not expecting much from tomorrow's game, because all of the England players excluding David, have mentally checked out of playing for this season as:
1. The European season is over, and they are looking forward to their holiday's.
2. They maybe still disappointed at not being in Euro 2008 which starts next month.
I would not be surprised if this game is a draw, or even if the US were to win.
The British press are seeing the key battle to be between Landon Donovan and John Terry.
Donovan could become the fourth youngest player in world football history to reach 100 caps if he plays against England. The LA Galaxy striker has scored eight goals in eight games this season in MLS action, including a recent hat-trick against Chivas USA. At just 5ft 8in he will pose little threat in the air but can score with both feet and will rely on his pace to unsettle England's defence.
Terry will be playing his first game since missing a penalty in the Champions League final and Donovan will be hoping the Chelsea centre-back's mind will still be on that Moscow miss which denied the Chelsea European glory. However, Terry could be handed the captaincy by coach Fabio Capello and that is certain to ensure the Terry turns in a typically committed display.
Source
&
Source