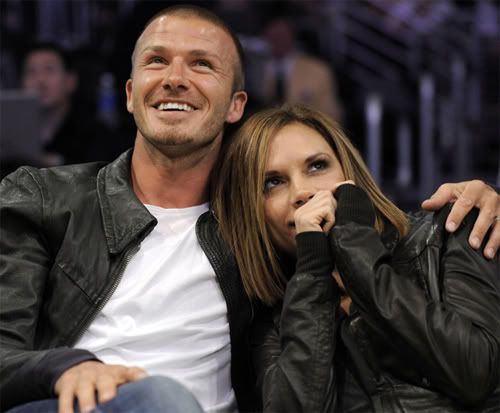 OMG
...I have been out all day and come home to the most beautiful candids of Victoria and David Beckham at a Lakers game last night.
The sexy couple saw the LA Lakers beat San Antonio Spurs, 101-71 in a Western Conference Game 2 at Staples Center, to take a 2-0 playoff lead in the best-of-seven Western Conference Finals series.
The couple seemed to be having fun, sharing a giggle, and looking up at the giant screens above them, but did not share a toffee apple.
Eva Longoria was also there cheering on her husband, but looked very sad that they lost. :(
Not crazy about the green jeans, but
LOVE
the matching leather jackets. Very early Posh & Becks.
Source
&
Source
&
Source
&
Source