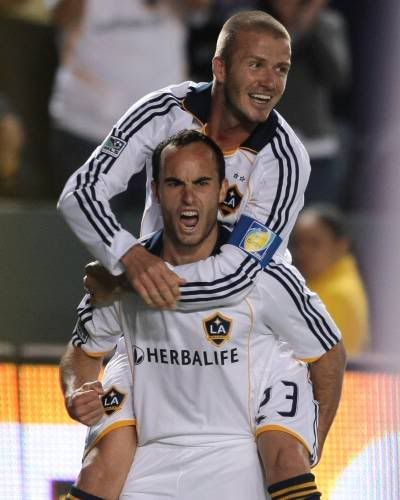 Striker Landon Donovan is poised to make his 100th appearance for the United States in next week's friendly against England at Wembley Stadium.
The LA Galaxy striker has been named in a 22-man squad, one of just three domestic-based players to make the trip for the game on May 28.
Eight players from English clubs are in coach Bob Bradley's squad. Three players in the US side do not currently play for any league clubs, which is very strange.
So they are good enough to play for their country, but not for a league side? ?!?!?!?!
Or are they just making up the numbers ?!?!?!?
Or are they that good, that they don't need to play for a club ?!?!?!?!?
Here is the
USA
Squad:
Goalkeepers
Cervi, Dominic (No club), Guzan, Brad Chivas USA (MLS, Howard, Tim Everton (England)
Defenders
Bocanegra, Carlos Fulham (England), Califf, Danny Aalborg BK (Denmark), Cherundolo, Steve Hannover 96 (Germany), DeMerit, Jay Watford (England), Onyewu, Oguchi Standard Liege (Belgium), Orozco, Michael San Luis (Mexico), Pearce, Heath Hansa Rostock (Germany), Spector, Jonathan West Ham (England)
Midfielders
Adu, Freddy Benfica (Portugal), Beasley, DaMarcus Rangers (Scotland), Bradley, Michael Heerenveen (Holland), Clark, Ricardo Houston Dynamo (MLS), Feilhaber, Benny Derby County (England), Lewis, Eddie Derby County (England)
Forwards
Dempsey, Clint Fulham (England), Donovan, Landon LA Galaxy (MLS), Jaqua, Nate SC Rheindorf Altach (No club), Johnson, Eddie Fulham (England), Wolff, Josh (No club)
The
England
squad is as follows:
Goalkeepers
Robinson (Tottenham), James (Portsmouth), Carson (Liverpool, on loan at Aston Villa),
Defenders
Richards (Manchester City), Brown (Manchester United), Ferdinand (Manchester United), Terry (Chelsea), Ashley Cole (Chelsea), Taylor (Newcastle), Neville (Everton), Shorey (Reading),
Midfielders
Beckham (LA Galaxy), Gerrard (Liverpool), Lampard (Chelsea), Joe Cole (Chelsea), Wright-Phillips (Chelsea), Carrick (Manchester United), Barry (Aston Villa), Downing (Middlesbrough), Dyer (West Ham), Hargreaves (Manchester United),
Forwards
Smith (Newcastle), Owen (Newcastle), Crouch (Liverpool), Bent (Tottenham), Johnson (Everton), Defoe (Tottenham).
In other England news. The England friendly against Trinidad and Tobago has been plunged into doubt over a bizarre dispute between the Caribbean nation's most powerful football figure, Jack Warner, and his government. The two sides are in a bitter disagreement over the cost of renting the government-owned stadium for the match on 1 June.
The Football Association were last night urgently seeking clarification over the game after Warner was quoted in the Caribbean as saying that he would rather call the match off and repay ticket-holders than bow to the demands of the government.
Source