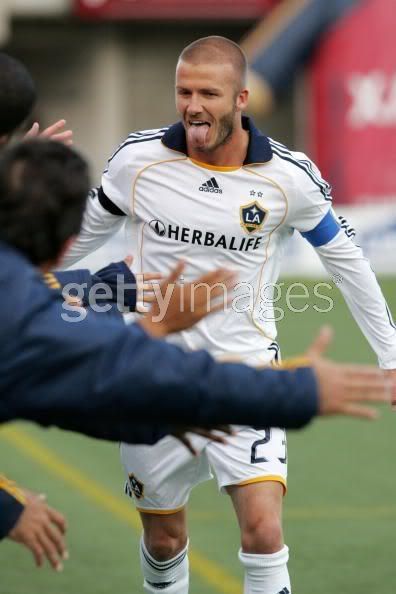 David Beckham scored twice in the first half against Real Salt Lake to help Galaxy tie the game at 2-2 tie at Rice-Eccles Stadium on Saturday evening.
Galaxy trailed by two goals early in the first half, Beckham took advantage of a couple of defensive lapses and score his first two-goal outing since arriving in the MLS.
"It was a good game in the end,"
Beckham said.
"I think that we started off terrible the first 20 minutes. We didn't get close enough to them as a team. We looked scared of them.

"And then a couple of tackles started going in, and we livened up,"
he said.
"We got ourselves back into the game."
He scored twice in the space of four minutes, his first goal was spectualar, it was one of his trademark benders from about 25 yards in the 36th minute. He controlled the ball before curving it around the defense and past Salt Lake goalkeeper Nick Rimando inside the far post. Beckham did it again on a free kick in the 40th minute. He blasted a shot from 29 yards that went over the wall of Real players, and curved inside the left post again as Rimando dived helplessly for it.
Fabian Espindola in the sixth minute and Kenny Deuchar in the 17th had given Real the early lead.
Source