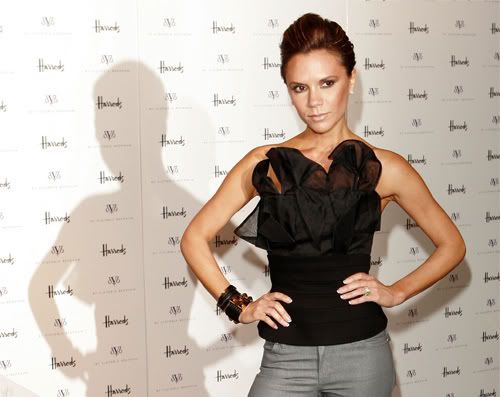 Perez Hilton's reported that only 50 people turned up Victoria Beckham's Harrods signing in London, after reading the
London Paper
and this is just not true.
It was more like 140, which yes, can still be seen to some as disappointing.
I think a lot of people did not know about it.
It was barely mentioned in any press apart from her
Mirror
interview and her
Radio 1
interview on the day of the signing, and her GMTV interview.
It was a horrible day in London weather-wise, and I think a lot of Spice Girls fans who would have gone, are still bitter from the tour and non-DVD release.
I did not go because I did not like the idea of being in a "non priority" queue waiting - possible for hours - and still be being able to see her.
I am not trying to make excuses, but her signing was at 5pm. At that time of day those who can afford to spend £300 on a pair of jeans are at work.
Her last signing was for her book in 2006 was at 6pm (after most people had finished work) in Selfridges (a easier store to get to) and 3000 people showed up and you did not have to buy the book and there were
no
priority lines.
Source