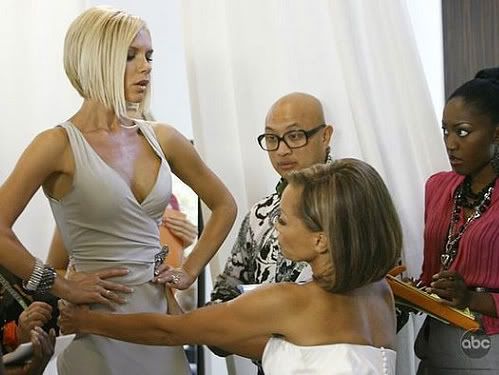 I have read in many publications that Victoria Beckham will be returning to
Ugly Betty
, but when it appeared in
Vogue
and
NY Fashion Mag
, I wonder if it might be true.
Here is the article below:
Having caused a stir with her cameo appearance in Ugly Betty last season - where she played herself as a self-seeking bridesmaid - Victoria Beckham has reportedly signed up to return for a long-term stint in the show.





"The producers are delighted she will return. She is going to feature quite a bit," an on-set source tells the Sydney Morning Herald.





As well as establishing herself as a credible fashion-world force, Beckham has been keen to win the hearts of the American public since moving her family to LA with husband David last year, and a regular slot on such a popular mainstream show will no doubt help her cause.





An Ugly Betty role is becoming quite the thing to add to a fashion portfolio these days; Naomi Campbell's much-publicised cameo appearance, in the season three finale, was shown in the US last night

.
What makes me question this article is:
1. The source spoke to a Sydney newspaper, why not the US publication as you would expect.
2. Victoria has said many times - most recently in her
Heart FM
interview - that she can not act and has no desire to act.
Other than questioning the article, were can Victoria Beckham's character - as herself - really go in the show?
Source