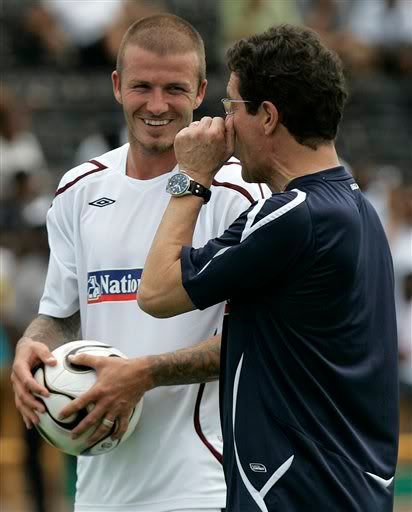 David Beckham has been named the captain for tomorrows friendly against Trinidad & Tobago.
It will be the first time that he has worn the armband since the 2006 World Cup, when David resigned as captain of the team.
Capello has rotated the captaincy during a series of friendlies, and will make a final decision about who will be the permanent leader, before the next World Cup qualifying series gets under way.
"People will always question whether I can still play at this level but I want to carry on. I am not ready to stop playing for my country,"

said Beckham.

"I have a few more wrinkles now but I still feel I can do what I did 10 years ago. I was happy with my performance against France in March, my first game under Fabio Capello, and it was the same against the United States the other night. I was happy to set up the opening goal."





"When you have worked on things during the week, like where the players have to run to and where I have to put the ball to, and it comes off in a game, it makes you happy. People have always talked about my set pieces and what I can bring to the team. I can bring a lot more to the team than set pieces but it is one of my strongest things that I can do in the game. There is always a chance if I get a set piece that I'll put it in the right place for someone to score."





"The manager has said if I stay fit and I am performing, then I've got a chance to be in the squad and that's all I can ask for. At the moment I am taking each game as it comes - and who knows what is around the corner? But I've played in three World Cups and I know how much it means to the country, so I would love to still be playing in 2010 and be at the World Cup in South Africa."



David Beckham helped to attract around 3,000 fans to England's practice session ahead of Sunday's friendly match against Trinidad and Tobago.
Many fans cheered every time the Los Angeles Galaxy star touched the ball Friday at Hasely Crawford Stadium. The 80-minute light workout involved jogging, skills drills and a game of two-touch soccer.
England players applauded the crowd for their support at the end.
England coach Fabio Capello is resting seven of the Manchester United and Chelsea players who played in last week's Champions League final.
David Beckham played football with school kids at the Marvin Lee Stadium in Port Of Spain, Trinidad after his training session. He even took the time to tie one kids sneakers.
Source
&
Source