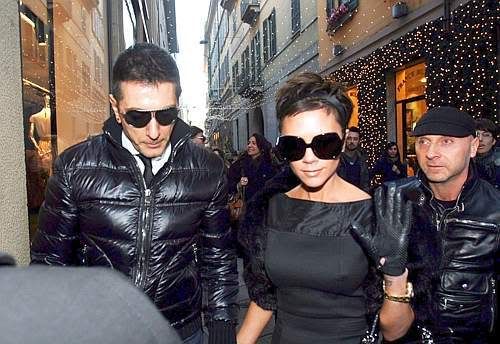 It has been reported that Victoria Beckham is allergic to pasta, declaring it "kryptonite".
I personally do not think Victoria would be so rude as to insult Italy's national dish, but "The Daily Star" - as if she would ever talk to that down-market newspaper - has quoted her as saying:
"It's not that I avoid carbs, I'm allergic to pasta. It's like my kryptonite.

"I feel like I can't digest it properly and it makes me feel ill."
An AC Milan fan said:
"Pasta is our national dish. How can you live in Italy and not try some? From the look of her she could do with tucking into spaghetti!"
MTV Italia news
spoke of the Beckham's arrival in Milan, and they of course talked about Victoria shopping.
More Milan pictures.
Have a Great Christmas and New Year.

No doubt the Beckham will be out and about at some point, so I will check up on them over the holidays.
Source