OK, so I get to Selfridges at 9.50 after the 9.30 opening and I get to her rail and :o only 6 dresses left.
I asked the shop assistant, if they had all sold out that morning, and he informed me that the most of the dress were sold at a private event the night before.
Yesterday she was at Manchester's Selfridges. She did a luncheon and presentation to 30 VIP customers, and they were given first dibbs on her dress collection. This also happened in the London store.
Selfridges London only ordered 40 pieces :(
Of the 10 designs, only 3 styles remained. So I picked up 2 size 10s and 1 size 8 and excitedly went to the dressing room.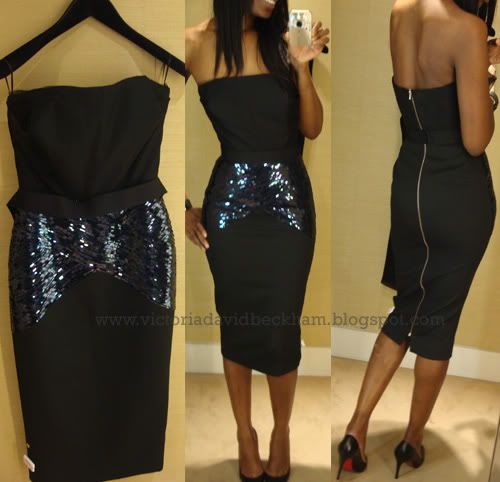 I, of course, had to try on Dress No. 8 first and it's was magical. I did not want to take it off.
I had trouble getting into it because I had unzipped it all the way down to the end, and the dress has a corset fitted into the dress, so essentially I had to do up two separate zips. This proved difficult, so the store assistant helped me into the dress.
The second he did up the dress, I swooned ♥.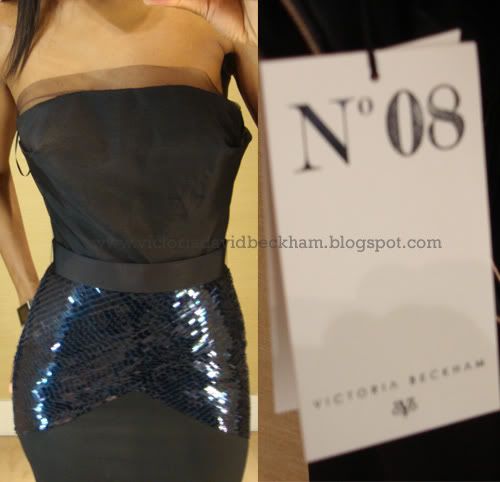 If I had more of a bust, and filled out the top half properly, I would very tempted to buy this dress, even with the £1,900 price tag, and the fact that it is almost impossible to sit down in the dress.
But who cares when it looks THIS amazing.
Dress No.1 was also gorgeous.
This is dress was more wearable than Dress No. 8, so you would get more for your money with this dress.
Very much a classic LBD, with a embellished bodice. This dress was around £1,800. Which I expected to be lower, considering the price of Dress No. 8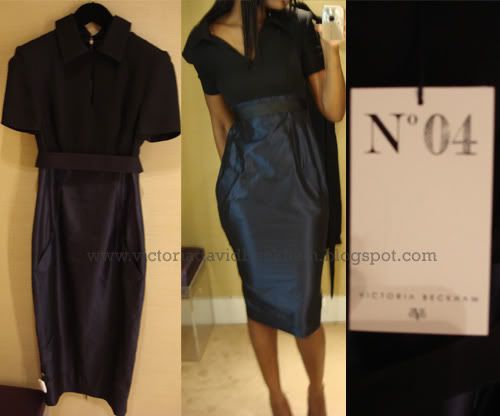 This was the size 8 dress, which did not fit me at all, but I put it on to show you guys.
I was not as in love with this dress as I was with the other two, but that is probably down to the fact that I could not fit in it.
This dress was the cheapest at £850.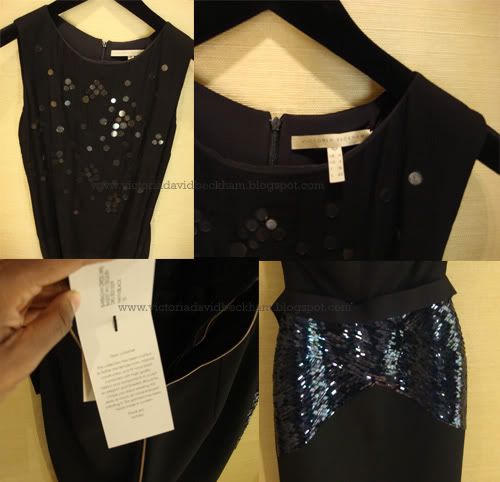 Here are some details.
The tags were in gold show her logo and the sizes in UK, US and Euro.
There was also a cute note, that basically informed the customer that range encapsulates a new timeless style of dressing. Every garment is a testament to the love of fashion and the female form and that the collection was made in the UK.
In conclusion, the collection was as I expected, well made, well tailored and very narrow. My hips are 38ins and all the dresses were tight on my hips, but that is very much the silhouette Mrs Beckham wanted to achieved.
I must say I am very proud of her.
When her collection goes on sale on Net A Porter, next year I will be ready.
Christmas is canceled. I am saving for my Victoria Beckham dress.
Oh, and for the haters, don't bother saying I look like crap...blah blah blah, because I know I look good in these dresses. Well the first two anyway.
You can see VB's
full collection here
.