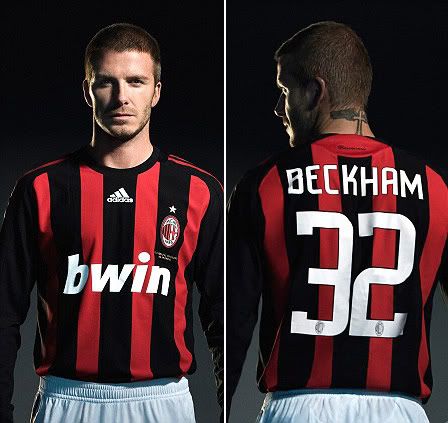 Hi Everyone,
Merry Christmas!
Well, it's been another amazing year.
I began 2008 by training with Arsenal to keep my fitness levels high and while I was back in England I was honoured to receive the Football Writers Tribute Award.
I also met the Prime Minister Gordon Brown and showed him around my Academy, which was a very proud moment for me and the coaching staff.
Next, as part of my UNICEF work, I visited Sierra Leone to try and highlight child mortality rates in the developing world. It was a very humbling experience, but an inspiring one.
Before the end of January I travelled to Brazil to announce The David Beckham World of Sport, which I hope will give Brazilian children the same access to top-class facilities and coaching as they get at my London and LA Academies.
After playing our pre-season friendlies in Hawaii and the Far East the MLS season got underway in March, but not before I was called up to the England squad for the first time under Fabio Capello. I still find it hard to believe that I won my 100th cap with England. It's such an amazing honour that I am incredibly proud of and despite losing to France I will always remember the match in a positive light.
Unfortunately, we didn't get a win in our first MLS match of the season either, but in our following game against San Jose Earthquakes I scored my first MLS goal, which was fantastic! Despite the win we just couldn't get on a run of good results, even though we did top the Western Conference for a while, and our form suffered, so in the end we didn't make the playoffs, which was disappointing.
As the year went on I continued to be called up to the England squads and although I didn't start in all the games, I did get to captain the team again in the friendly against Trinidad & Tobago, which was a great honour. I've said before I'd never turn my back on England and as long as the manager wants me and feels I can do a job then I'm happy to be part of things and pass on my experience where needed.
Away from football, I was delighted to part of the Olympics handover ceremony in Beijing in August. I'm a keen supporter of the Olympics coming to London in 2012. It will have an incredible impact on the East of London and the country, it is definitely time we had the chance to host a global event again.
Now Christmas has arrived again and I'm really looking forward to spending time with my family and enjoying the holiday before I experience some time in Italy with AC Milan early next year and keep my fitness levels up before heading back to the Galaxy in time for the start of the 2009 MLS season in the spring.
So, I'd like to wish you all a very Merry Christmas and a Happy New Year.
Take care,
David