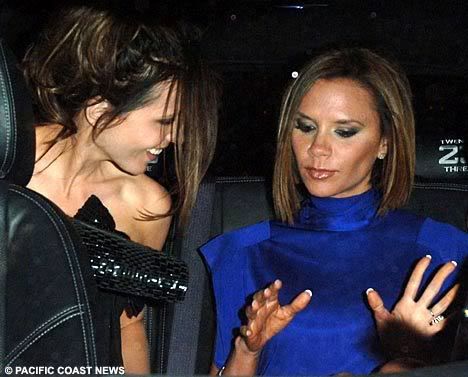 Victoria Beckham's stepped out with her husband and girlfriends Kate Beckinsale, and Eva Longoria for an early 34th birthday celebrations.
The group dined at Beso, Longoria's Latin-America restaurant in Hollywood.
Bastketball widow Eva's husband Tony Parker was - as usual - on duty for team San Antonio Spurs, but she played the generous hostess, inviting her celebrity friends to her newly opened restaurant.
As usual the press are more interested in the fact that Katie Holmes was not at the celebrations.
Personally I don't really see the big deal. Friends drift apart, and I think she has more in common with Eva - married to a sports star, and Kate Beckinsale - an British star/mother juggling motherhood and her career in LA, than Katie Holmes, who I would believe would be quite boring in comparison to Eva and Beckinsale.
Hopefully we will see more pictures from last night, as I dying to see that electric blue Verasce dress full length, and I can't wait to see what they do for tonight's real party.
Oops...I am glad that Victoria did not do a Britney, but love that her underwear matches her dress....so posh.
Source
&
Source
&
Source
&
Source