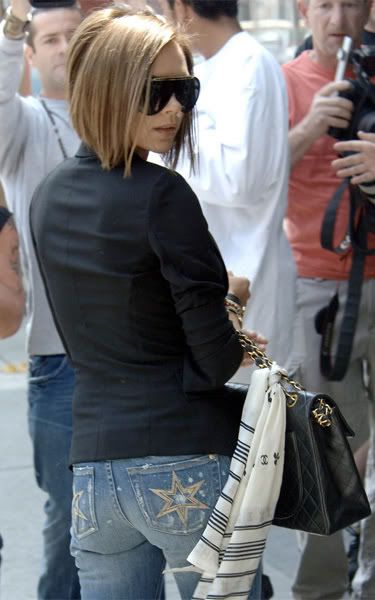 With poor sales of her dVb denim line leading to rumors of it being dropped by retailers, Victoria Beckham headed over to Kitson in Beverly Hills on Tuesday to help create a little buzz.
She walked around the store inspecting her collection for herself carrying her newly purchased vintage
Chanel
bag with her
Chanel
scarf tied around it. I must say I am not crazy about those jeans worn with a blazer. I prefer how she has worn those jeans before with a casual sweater.
It looks like her appearance may have worked because a Kitson rep said
"She realized that there are a lot of growing pains in starting line. We are continuing to sell her denim line and are working on a personal appearance for her fans."
I personally wish she had never gone to the store, because it makes her look desperate, and feels like she was bullied into going by the press and Kitson.
Source