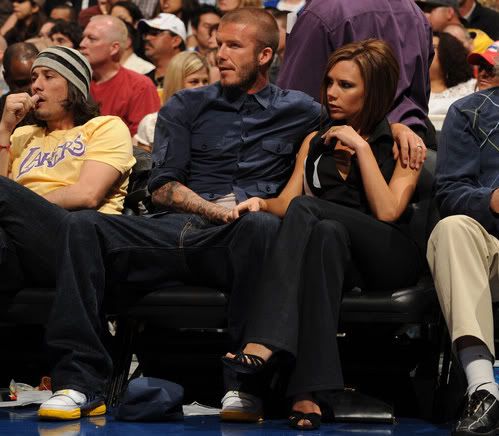 Last night David Beckham took Victoria to see the LA Lakers take on the Los Angeles Clippers at the Staples Center.
This would no doubt be a highly pressurized and interesting competition as the two rival battled it out for the win.
David Beckham was dwarfed LA Lakers center Didier Ilunga-Mbenga as they shook hands. Damn that guy is huge.
The Lakers won 106-78.
It looks like David needs to find a Basketball buddy, as Victoria looks so bored.
UPDATE:
I find it very surprising that some of you really don't think she looks bored. Look at the first picture below I just added. She is not even trying to look interested. I find this rude. David went to every single Spice Girl concert he could physically go to, to support his wife and when they do something he likes, she has a face like a thunder...not very supportive in my opinion.
Source
&
Source