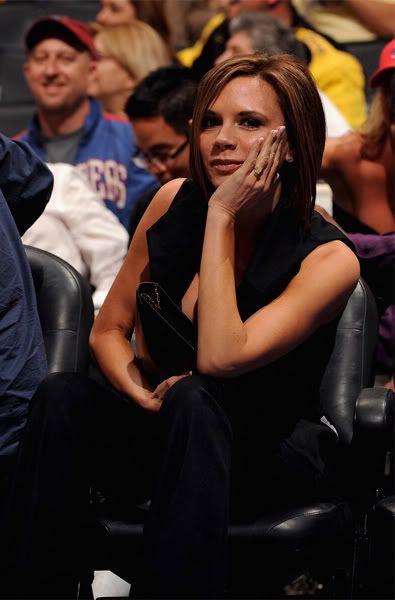 A lot of you were annoyed that I said that Victoria Beckham looked very unhappy to be at the LA Lakers game on Thursday, so I looked at every photo of her from that game and only found two photos of her smiling.
Any body language expert will tell you that despite the smile, her hand on her chin is a clear sign that she is bored, but many of you won't agree with that either.
Maybe she was slightly upset to learn that it has been reported that her fashion range is being dropped from stores following poor sales.
Fred Segal
and
Kitson
have reportedly dropped Victoria's dVb denim range, with the latter blaming Victoria's reluctance to promote them a key factor.
Kitson's
owner Fraser Ross reportedly said,
"We asked her PR people so many times for her to appear but she didn't. Celebrity lines are no different from an album or music tour. They have to be promoted to sell."
I tried to call both stores to see if this is true, but with the time difference there is no one there yet, so I can't confirm if this story is true.
If it is true this is just plain ridiculous. The in-store promotions were clearly done to coincide with the tour. Every knows her jeans and sunglasses are out there, she does not need to go to every store that sells them, this is impossible and ridiculous.
Source