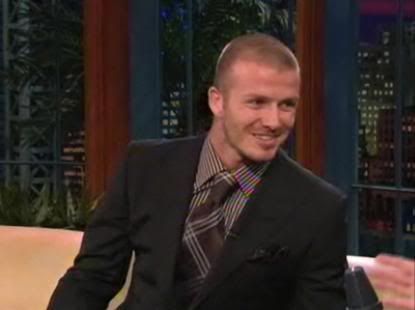 Ok finally found it.
You can watch David Beckham on Jay Leno last night
Part 1
and
Part 2
David discussed the Armani ads saying that
"I was so nervous about doing that campaign because obviously I've done photoshoots before but I've never done photoshoots in my underwear. But to do that, I was quite nervous because obviously I knew my wife and friends were going to see it. And my mom was going to see it. When the photos first came out, she was the first one to call me and say, 'What are you doing?' I tried explaining it to her but she didn't really get it."
Oh bless Mrs Beckham Senior.
David is so adorable in the interview, you can see he is nervous, but I thought it was a great interview.
UPDATE: Sorry for the mistake for not adding the links correctly, I am blogging from my blackberry and it is not easy.