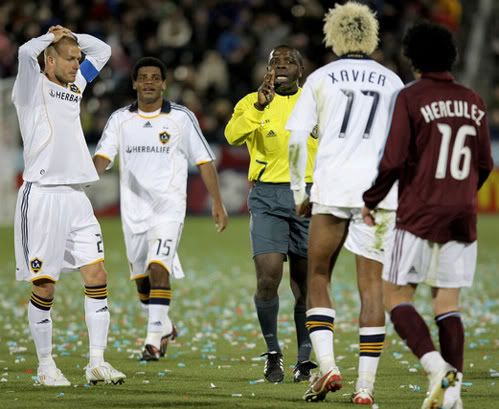 Hello everyone,
I hope you are well.
Well, the new MLS season has begun, though not in the way I'd have liked. It was very disappointing, but we've got a good team and we need to stay positive and move on from this, starting against San Jose Earthquakes on Saturday. Congratulations to the Colorado Rapids, who deserved their win. I was especially pleased for Terry Cooke, who I played with in the youth team at Manchester United. He plays for the Rapids and has been unlucky with injuries over the years, so it's great to see him fit and playing well.
We're confident going into the game later today. It's the first of four games in a row at home, so we'll be wanting to get the right result and push on from there. The Earthquakes head coach is Frank Yallop, who was our coach at the Galaxy last season, so it'll be good to see him again. We know how he prepares a team, so hopefully we can use that to our advantage!
After training yesterday, I was pleased to be invited to appear on Jay Leno's Tonight Show. While there I also joined Ellen DeGeneres on her chat show. They're both really nice, funny people and I really enjoyed being on their shows.
Back to football though, we've been training really hard this week before our home season opener. Ruud Gullit and the coaching staff have made sure that we forget about last weekend and stay focused on the next game. Now we just want to get back out on the pitch and get the right result on Saturday.
Take care,
David
HOLD THE PHONE, WHEN WAS DAVID ON ELLEN'S SHOW?
I can't find it anywhere.
Source