It feels like I have been talking about the Spice Girls concert forever, but last night I FINALLY went.
It was AMAZING. Well worth the £75.
My 4th row seats were amazing and as a result, me and my sister got some great pictures and videos. Between us we took around 800 pictures. My sister has the best camera in the world and she managed to take around 700 pictures. Our pictures were a mixture of good and bad. The best ones came when the girls came to our side of the stage. Facing the stage we were to the right of the girls.
My favourite one is this one my sister took of Mel C.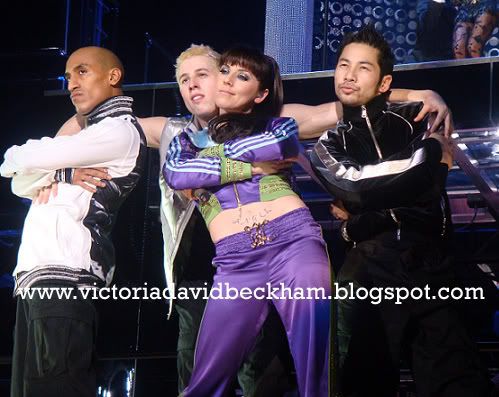 It was throughly entertaining. The girls interacted well and kept the crowd very entertained sing all the
classic's
. It is amazing how you never forgot the words of songs you have not sung in over 10 years.
The performance was flawless, although Victoria was noticeably late on one part of her routine during
The Lady Is A Vamp
.
Of course my attention was mostly focused on Victoria most of the time, but I was memerised by Melanie Brown.
Much prettier in real life and has
THE MOST

AMAZING
body I have ever seen.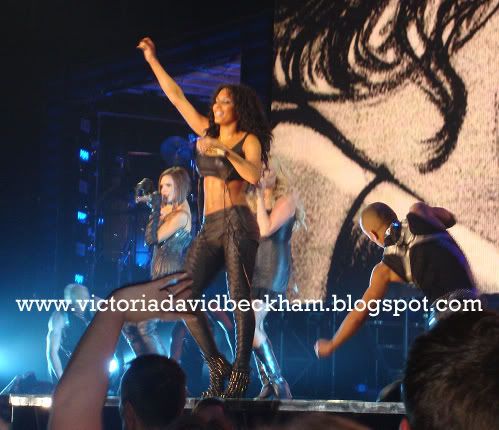 Dancing With The Stars
has given her a body of steel, she was well toned and had - what appeared to be - an
8
pack. I am straight and I have nothing against lesbians - but tonight, if asked, Mel B could have turned me. She was
that
amazing.
Victoria and Emma were the ones who interacted with the crowds the most, often waving and smiling at various audience members. Some had dressed up as their favourite Spice Girls. Most were Geri.
Geri was kind enough to congratulate 3 girls who were all dressed in Union Jack dresses and matching Geri wigs, much to the delight of the girls.
I have uploaded my favourite 50 (of the 800) to this gallery for easier viewing. (click view all images for a larger view)
Here is Victoria singing my favourite song and part from "Say You'll Be There".
See...she can sing.
In this video for Mama, Victoria runs over to were her boys are in the crowd and waves and blows kisses at them...oh so cute.
Another good one was Mel C singing "Who Do You Think You Are" up close to us. Also Victoria is up top in the background.
You can view the rest of my concert
video's here
.
UPDATE:
In answer to your questions, Victoria is not as skinny as people are saying, she looks slim and healthy. Geri was the one who looked very skinny, not as
athletically fit
as she did in the summer.
I don't know if they are going to Paris, I guess they think that those from Paris could go to either the UK or Madrid shows. The only expected added dates are Australia.
Peach, lol, happy to share.
And yes, Victoria got the loudest cheers for each of her singing parts.
Source: ME