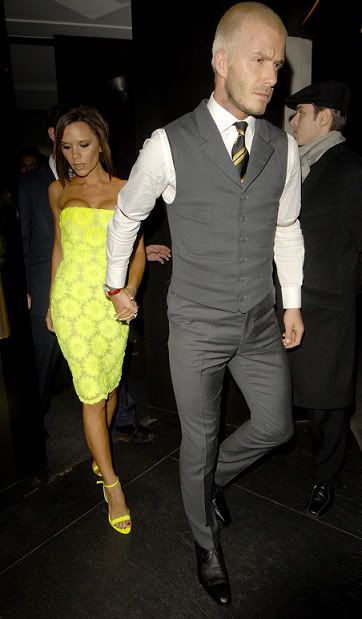 This is why I love the Beckham's in London. When they go out, they go
ALL
out.
Glamour that is.
In LA, there are so many celebrity friendly restaurants with underground parking, that you just don't get to see her fabulous outfits.
Victoria is looking fabulous wearing a tight flower-patterned neon yellow strapless dress, and David is looking super sharp in tight grey trousers with a matching waistcoat.
What I love from these pictures are the subtle things, that let you know they planned their outfits.
She has the bright yellow dress and he has yellow in his tie. She has a big ruby diamond ring (a Christmas present I am guessing) and he has a ruby strap on his watch.
Coincidence? Hell no.
Why did they get dressed up?
They got all dressed up for a Saturday night out on the town in London. They dined at
St. Alban
restaurant, which is very popular due to the fact that it serves contemporary European cuisine at a very reasonable price. A typical meal costing around only £20/$40.
In other news, Victoria recently spoke to press about her sadness over finishing the Spice Girls reunion tour, saying that she will have to return to her
lonely
life.
Victoria said:
"I'll really miss the tour when it's over. I didn't realize how much I'd missed all the girls until we were back together and I think it can be quite lonely when I've lived abroad for so many years. I've really missed the girls."
Homesick?
Source