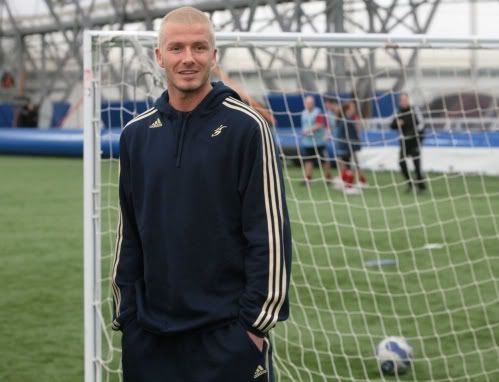 David Beckham came face-to-face with the grinding poverty of Sierra Leone on Saturday and witnessed the work being done to try and alleviate the misery of a 12-year civil war.
"He arrived yesterday as an ambassador of Unicef to see our work in the field. He visited several child survival programs in the north of the country, around Kabala, near the border with Guinea,"
said Alison Parker, a spokesman for the UN body.
Beckham, who has been a Unicef ambassador since 2005, is visiting centres which care for malaria sufferers, a disease which kills at least 800,000 children under the age of five each year in sub-Saharan Africa.
I am so touched by David for doing this, he is such a great man. He could easily just send a cheque and not be actively involved, but he wants to be involved.
He is truely a man to be admired.
I ♥ him.
Source