Victoria Beckham was joined by fellow fashionistas Claudia Schiffer and Dita Von Teese (her NBF) at the Roland Mouret Haute Couture Spring-Summer 2008 collection in Paris today.
She looks
amazing
wearing a RM by Roland Mouret grey tweed dress, standard large glasses and a sexy nude lips.
I LOVE the lips. Girlfriend is always bringing us something new.
No doubt, Victoria will be ordering the
whole
collection.
After the show came to its end Victoria Beckham picked out the Kleber cocktail dress in primrose yellow double crepe, with an origami-pleated neckline and full-length zip at the back, as her favorite.
"But it's hard to pick," Posh told press, adding, "because really I think I want them all."
Take is all honey, you can afford it.
There were two yellow dresses in the show, so it could be either one of these, both beautiful.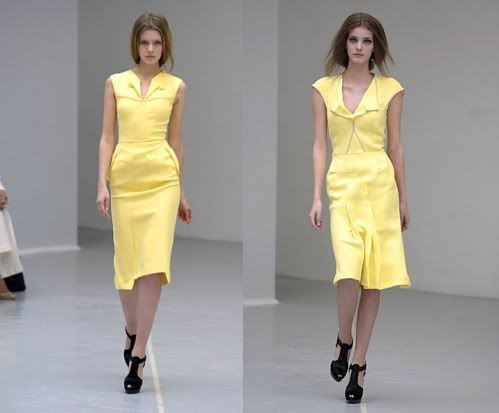 Oh yes....I ♥ her new bag.
Source