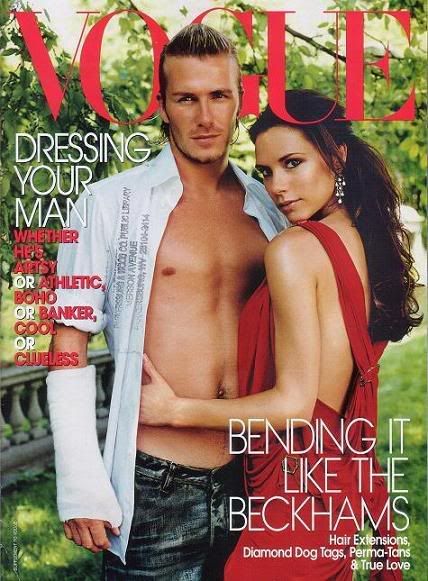 Like I was not excited enough today, but now I learn that Victoria Beckham will get her own Vogue cover.
She is due to grace the cover of the British edition.
The spot is reserved for top models and legendary stars, Posh Spice has cemented her place as a style icon. Eat that Mr Blackwell. Just goes to show he knows nothing.
A source told the Mirror newspaper:
"Victoria's doing the fashion shoot this week with top photographer Nick Knight who's shot stars like David Bowie, Kylie Minogue and Kate Moss.
"The cover will be on the April issue of Vogue and the magazine is planning to dedicate 12 pages to her".

"It's rare for Vogue to use someone other than a model for the cover, so it's a real coup for Victoria."
The shoot is also rumoured to be Posh's most risque and edgy to date - in other words we'll being seeing a lot more of the Spice Girl than is strictly necessary!
Hopefully it will not be a a damp squid like the Elle US spread.
As it is an April edition, I will be on sale around the first week of March. I
will
be stalking my newsagents to get this magazine.
Source