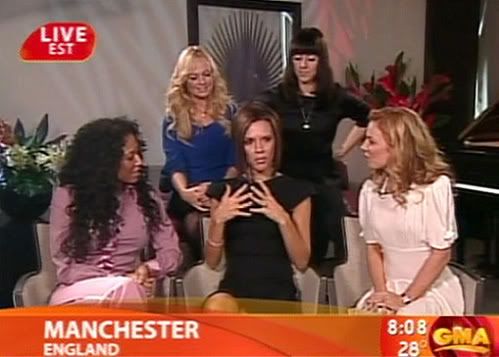 As I said in an earlier post, the Spice Girls were on
Good Morning America
today to promote their tour.
They were broadcast live from Manchester, were they have one more gig after tonight's show before jetting off to the US and Canada to complete their tour. This interview may have been to secure a few ticket sales for those shows yet to sell out.
There are not any video's of the interview You tube yet, but the minute I find one I will post it.
Victoria appears to be taking center stage, which will no doubt annoy Geri Halliwell.
She is wearing a black version of the RM by Roland Mouret
Moon
dress she wore to David introduction to LA Galaxy and looks sensational, even sitting down.
In my opinion - even with these not so clear pictures - I can tell that the rest of them are so poorly dressed.
Do they not have a stylist on this tour?
Mel B is wearing a pink outfit with red Louboutins. *shudders*
Geri looks about 50 in that dress.
Meh! to the other 2.
Victoria, help your girls out.
Source