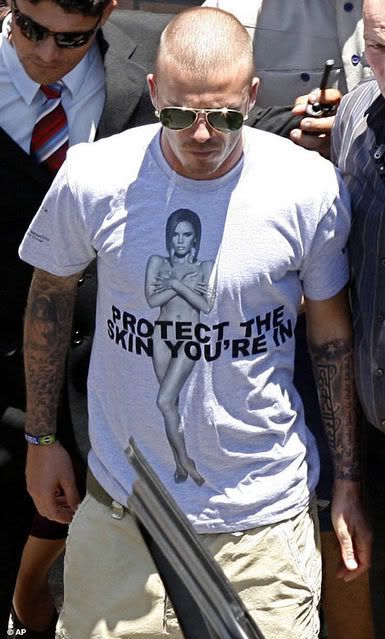 This is so adorable.
David Beckham is wearing his wife's
Marc Jacobs charity t-shirt
. You can't get much cutier than that.
I also notice that he is sporting new tattoos. Seriously, how many does one person need?
David is currently in Brazil. These photos were taken of him today as he was leaving his hotel in Natal, northeast of Brazil.
Why is he in Brazil?
David will open in Brazil the first "
David Beckham World of Sport
" a professional sports complex designed and planned with his input.
David said in a press conference in Brazil that he does not intend to teach Brazilians - who have won a record five editions of the World Cup - the sport. He only wants to develop the sport in the South American country.
"I am happy Brazilian children will benefit from access to the top class facilities and coaching at this resort,"
Beckham said.
The project is to be financed by the Norwegian group
Brasil Development
. A luxury resort is to be built at the beach Cabo de Sao Roque, in the town of Barra de Maxaraguape, some 50 kilometres from Natal.
It will include
Beckham's World of Sport
, featuring eight football pitches and a stadium to fit 10,000 spectators. The facilities will include a football academy that local children will be able to attend.
David who already has academies in London and Los Angeles.
Brazilian Formula 1 driver Rubens Barrichello is also expected to take part in the project in his native country, with the
Rubens Barrichello Driving Experience
.
It is so great when people give back.
You can watch David's press conference with Sky News
here
Update:
Here is another
video
of David Beckham showing off his fancy footwork (topless) on a beach in Brazil.
Source
&
Source