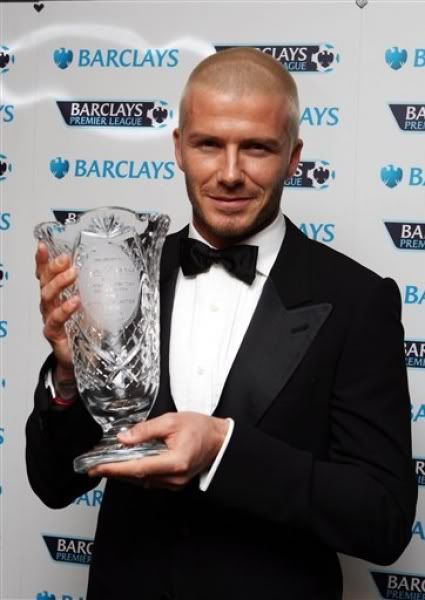 Last night David Beckham received an award from the
Football Writers Association
for his outstanding achievements in football at The Lancaster Hotel, London.
"It's an incredible honor to receive this award. Football writers have followed my career from when I was a young player at Manchester United up to now. It's great to receive this recognition from those who follow and love the game,"
David said.
During the dinner, former England coach Sven-Göran Eriksson suggested that the team's new coach, Fabio Capello, should play Beckham in a match next month against Swizterland.
In front of Brian Barwick, the FA chief executive, insisted that hundreds of guests toast Beckham and his hundredth cap.
"He deserves it,"
Eriksson said.
Beckham reiterated that he would not be retiring from the national team although he was not making any assumptions about the future.
"I have played 99 times so far,"
he said.
"We'll see. What I always want to be remembered for is that I have given my best in every game whether that's for Manchester United, Preston North End, Real Madrid, LA Galaxy or England. Playing for my country has been the biggest honour of my career."
In an interview Beckham revealed his fitness after a five-week break from football had surprised him.
"It's a lot better than I thought it was,"
he said.
"I feel great. I've had one day of training with the Arsenal team and three days of training with the fitness trainer."
Beckham revealed he had thoroughly enjoyed working with Gunners boss Arsene Wenger in the past week.
"It's been great. I'm lucky that Arsene Wenger has given me the chance to train with the team,"
he added
. "It's nice to be with a Premier League team that is obviously so talented".

"The players have accepted me really well."
A lot of Manchester United fans has reacted angrily to David training with Arsenal. I don't think they have the right to be angry, if he had chosen Manchester United over Arsenal, then they should have been angry, but Manchester United, his boyhood club did not even
offer
him a chance/opportunity to train with them.
Source
&
Source