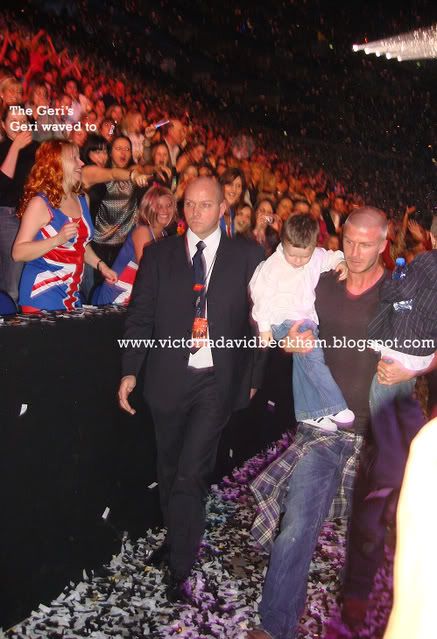 Heck yeah.
Me and my sister were in seat 55 & 56, the last 2 seats of my row, so we could clearly see the exit isle.
When the lights went down for the start of the show, I noticed David Beckham and 3 bodyguards walking very quickly to their seats.
I was not able to take a picture of David at this moment, as it all happened so quickly.
He had one of his trademark beanie hats on, so despite the guards he slipped in unnoticed to most people in my area.
As
Spice Up Your Life
was winding down for the final song, I kept an eye on the exit isle.
I first noticed Victoria's dad leaving, so I fully focused on the isle, forgetting about the concert, then I saw Brookyln run towards to VIP exit, then David was walking towards us, with both Cruz and Romeo in his arms. You could have knocked me down with a feather. I was calm, but my heart was racing all I wanted to do was get one good shot. Excitedly, I got into position and managed to take the photo above.
He had that scowl on his face, but the light were up and the crowd noticed that he was leaving and a big cheer went up for him, then he started smiling. At this moment I was no longer looking at him through my camera, as I wanted to look at him with my own eyes, and the verdict?
Even more handsome in real life. Trust me.
The second picture did not come out so well, which is a huge same.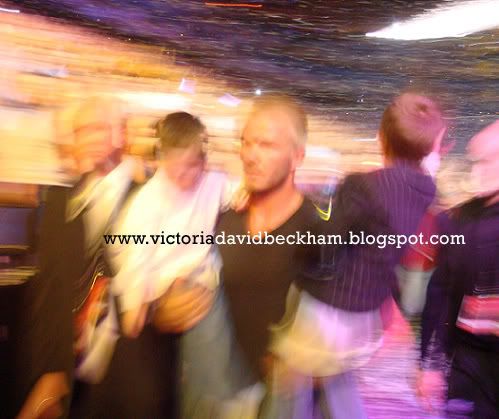 Looks like the Beckham boys happy to see
every
concert, and I don't blame them. It was that good.
Source: ME