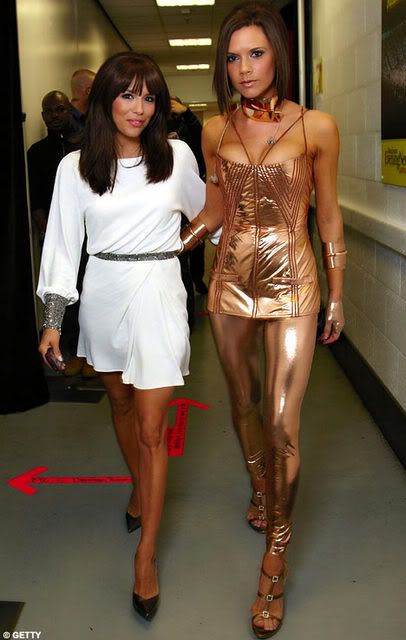 It looks like Eva Longoria could not wait until the Spice Girls returned to the US, so she went to the Manchester show, to see Victoria and the Spice Girls perform at the MEN Arena.
Eva Longoria is in the UK promoting her new movie
Over Her Dead Body
. I am sure the girls have not been spending much time together lately, with their respective busy schedules, so I bet they had a lot of catching up to do.
Victoria sure had a busy day. She was the Fashionista
in
Paris at lunchtime to view
Roland Mouret's
fashion show, then in the evening she was Posh Spice, performing with her girls.
What a great life she leads.
How tall is Eva? Victoria is 5ft 4ins and towering over Eva and they are both wearing heels.
I wonder what Victoria made of Eva's new bangs. Me? I am not crazy about them at all.
Source