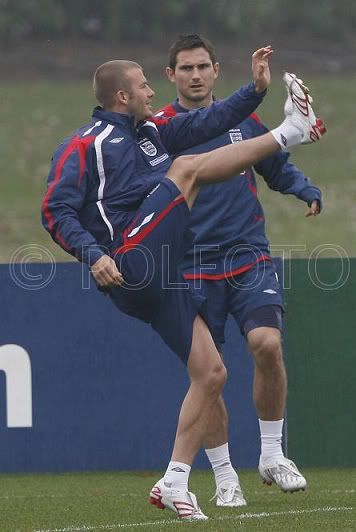 As David Beckham trains with the England squad this morning, many papers are asking if he should play at all tomorrow.
Personally I think there is no man more dedicated to the England cause than David.
He has got us out of so many tricky situations before, and seeing as we have to draw to qualify, if we need a goal, no one is more likely to get that cross in like David Beckham.
England striker Peter Crouch told reporters there is one man he needs to supply him with ammo and that man is David Beckham! Crouchy said,
"Most of my goals come from crosses so David is exactly the kind of player I need."
Exactly.
On the plus side if David Beckham is on the bench tomorrow it would be a good thing for me, because my seats are near the bench, so I may be able to get a picture of him or even an autograph. But I would prefer him to play.
Source
&
Source