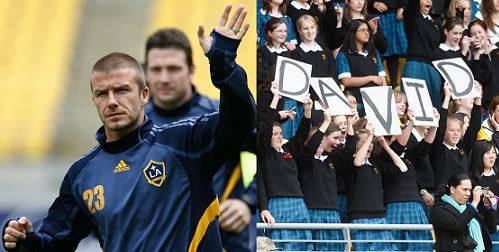 David Beckham wowed thousands of Wellington school children today as he trained with his team.
They did laps of the ground at the beginning and end of training, with waves from Beckham - much to the delight of the fans.
The training itself was pretty untaxing with some light stretching and jogging followed by a game of half-paced seven-a-side.
Late in the session when the team took free-kicks, Beckham put his first one onto the bar drawing "oohs" from the crowd.
His second went straight at the goalkeeper prompting "boos", but his third went in to loud cheers and a smile from Beckham himself.
But the highlight for all was when Beckham was handed the microphone at the end of the session.
His thank you to the assembled children was met with rapturous screams.
"We'd just like to say as a team we're very proud to be here," he said.
"We're pleased to have so many children and people watching."
Beckham then left with a final wave amid more deafening cheers and applause.
Source
&
Source