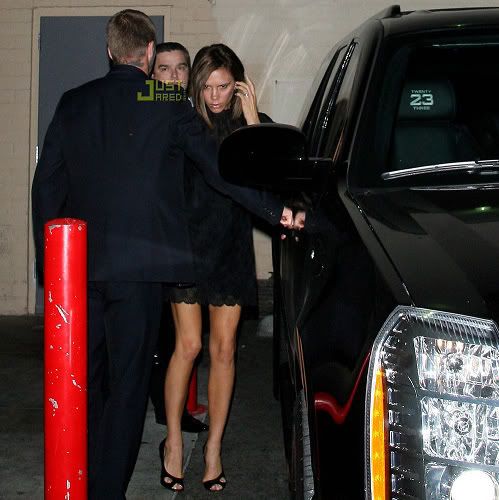 After the charity match yesterday, David and Victoria Beckham went out for dinner at
Mastro's Steakhouse
in Beverly Hills. I love seeing my favourite couple together. I wish we could see more couple pictures.
In the picture she appears to be concentrating very hard. Did she have a little to drink with her steak?
Victoria looks beautiful as always in a black lace mini dress with her favourite
Givenchy
heels.
Apparently Victoria has been told to put on weight ahead of the Spice Girls reunion tour.
Victoria is often criticised for being too thin, and has been ordered to eat five meals a day amid concerns that she will be unable to handle the band's busy schedule.
A source told the
Daily Mail
:
"She is terrified of putting on a single pound and has had to be talked into increasing her food intake. It would be very embarrassing for her if she collapses or gets ill because she's too weak."
Source