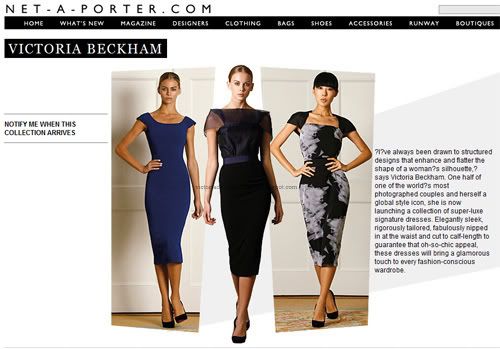 Big thanks to heather ♥, who had informed me that Victoria Beckham now has her own page on
Net-A-Porter.com
, prior to the collection being sold on the site.
A friend of mine who works at Net-A-Porter told met that the collection was due to go on sale in March, but as this page has gone up, maybe it will be sooner.
I know many of you who don't live near Selfridges, Bergdorf Goodman's and Neiman Marcus were looking to purchase a Victoria Beckham dress, so I will let you know the second it goes live, because I am sure it will sell out in a hot minute.
In the meantime, please register your interest. I know that some pieces at Net-A-Porter are pre-sold like at Selfridges, so if you are
REALLY
interested, you should try contacting Net-A-Porter directly and maybe get yourself on a wait list.