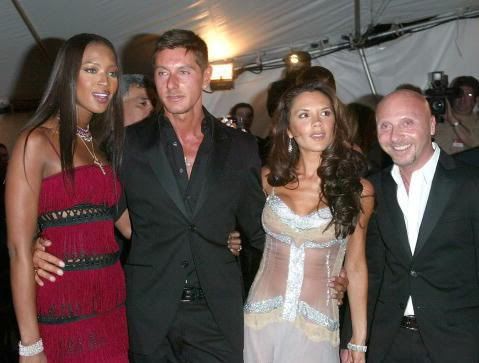 We all know Victoria Beckham - as an international style icon and celebrity yet in this revealing post Stefano Gabbana reveals unique insights into Victoria's past, present and the future.
Victoria smiled proudly at Brooklyn as he ordered a plate of spaghetti. Romeo, the oldest of her three sons was sat next to her, along with Romeo and Cruz who were playing the drums with their knives and forks against a silver water holder.
"David is stuck in Dubai with Milan."
She glanced outside Gold's window onto the snow that covered the square. The ice reflected the freezing glow from the streetlights. Looking back at us she smiled, raising her eyebrows ever so slightly; her ironic way of revealing she can manage quite nicely without her husband.
As soon as she landed last night, she sent me an sms,
"where can I eat a pizza with the boys?"
Initially meeting Victoria in the fashion world it never fails to surprise me when I see her in her other role as 'strict mum'. She's not soppy with her children – she's an exacting mother but at the same time she's affectionate, and tender.
Victoria is a woman that guards her private life carefully. You can sense through her body language that she's a woman who knows what she wants and has the capacity to defend those close to her. From hanging out with Victoria it's immediately obvious she's prepared to protect every part of her close-knit world - her husband and sons whilst her exterior clearly reflects her professional side.
As she begins to eats, she chats about her news from the last few weeks. She mentions Dubai whilst the kids tuck into their food, delving forks and little hands into their plates of pasta. In the intimacy of our table, and with the boys close to her I see her as a mother and a wife more than ever.
When her and David were just married, almost every Monday on his day off, he would nip into our boutique in London to buy her a present. Occasionally he would flick through a look book and find something that wasn't available in the boutique and ask if we could send it from Milan.
"I don't really know Italian TV so well yet, but they've invited me on loads of programmes,"
she says.
Domenico pipes in with his dry humour,
"There's not that much to explain."
Victoria giggles; she always enjoys Domenico's no-nonsense tone and she listens fascinated when he discusses the technical aspects of fashion. She begins to quiz us about our make-up project as she examines carefully the lipsticks, eye-pencils, and nail varnishes that we've just given her as a gift.
"Since I've been managing my DVB jeans line I understand so many more things that when I was with the Spice Girls"
. She starts to explain her new awareness of managing a business. She smiles, proud of the fact she's developed as woman and laughs cheekily when I start to tell her about what really goes on at our fashion shows…
When she speaks about her sons, or LA, or her husband I see in her eyes that unexpected surprise that as a young successful woman she's also discovered the fulfillment of being a mother – she's experiencing a love for her children that usually this type of successful woman doesn't automatically assume she'll feel from having children. It's as if the 'famous woman' inside of her asked permission to become a mother – and now, permission granted, she feels secure in her role as a mum – you can see instantly motherhood comes naturally to her and she feels confident in her role as protector and nurturer to her sons.
I chat with her about the Sanremo festival, a huge music event in Italy,
"You should go back there, do you remember that year you went?"
"Of course, I wore Dolce & Gabbana, I remember exactly, it was 1997"
, she recalls every detail perfectly as she flicks away a spot of spaghetti sauce from Romeo's shirt. Obviously feeling nostalgic she whispers to Domenico,
"do you remember the chiffon dress in New York? You were a magician!!!"
I looked down at my plate, and went back to that night at the Met Ball in New York - a crazy evening, a night so full of energy you could've lit it with a match. A group of us - Victoria, Naomi, Linda, Domenico and I were attending the annual Metropolitan Costume Institute Ball hosted by Anna Wintour. Fifteen minutes before we were due to leave the hotel, Victoria's assistant called us absolutely desperate - Victoria's dress had ripped and was irreparable. Domenico literally ran into Victoria's suite and improvised a 'tailoring moment', creating a dress there and then on the spot whilst Victoria was still standing in it - thus saving me from a panic attack, and Victoria from floods of tears.
Half an hour later, drama over we arrived at the Met to be greeted by Anna Wintour – Victoria's dress looked perfect.
* I love to hear how others see Victoria Beckham, she seems such the opposite of how the press try to portray her.