It has been reported today that David Beckham has said that Victoria will return to Los Angeles with their children whilst he plays for AC Milan
"Everyone knows how much I love my wife and my children, but at the same time I love football,"
he told reporters.
He has said that the three-month loan from LA Galaxy to Milan would disrupt his sons' education.
"My children will remain in Los Angeles due to school and Victoria will remain with them. When she comes to Milan she will remain with me for a couple of days,"
he said.
"I love my team, the Los Angeles Galaxy, but this is a great experience,"
Beckham said.
"Not everyone has had the opportunity to play at what everyone considers to be the best club in the world. I feel fortunate to have this great chance."
"I do not regret the choices I have made in the past because all of them I have thought through, including going to America. I have experienced a fantastic time there but now I am here and I only want to concentrate on this."
Beckham added:
"I am always ready to play but it will be the coach that makes the decision. Physically, I know that I have to work hard to be 100 per cent, not just to play but to play better."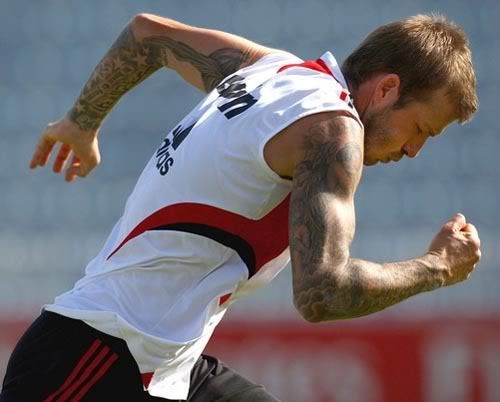 Here are some new pictures from today's training session. I have added those that focus on David's tattoo.
I still can't 100% work out what it is supposed to be.