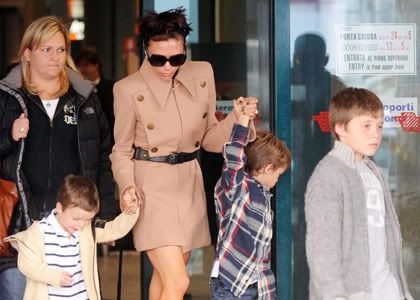 First David, now the rest of the Beckham have landed at Fiumicino airport in Rome today, ahead of what could be David's league debut for AC Milan against Rome.
Rome is going crazy for David, and I am sure the game will be a sell out.
It sound like the Beckhams may have a future in Milan, according to former LA Galaxy manager Alexi Lalas. He told press,
"I believe David wants to do well with the Galaxy, but you only have one career."

"The experience he is going to have at Milan will benefit him individually; he's back in his comfort zone at Milan, playing with one of the biggest clubs in the world, with a tremendous amount of talent around him. The Galaxy will survive without David Beckham, whether that is three years from now or three months from now. He has to do what he feels appropriate for his career."