Hi everyone,
A very Happy New Year to you all.
Well, after enjoying Christmas with my family I travelled with them to Dubai to meet up with my new AC Milan team-mates at their training camp. It was great to finally work again as I've not trained since early December with the Galaxy and, as I've said before, my body is used to keeping fit throughout the winter.
It was a tough week of training, but I feel I'm improving my fitness everyday and although I knew some of the players already it gave me the opportunity to get to know the team better.
It was great to start against Hamburg and although it was only a friendly it felt brilliant to be back on the pitch. Obviously, I was a bit rusty after not playing for a while, but it was a good workout and I thought I did ok.
I'm now back in Italy with the team, training for our next Serie A match away to Roma on Sunday, which I'm really looking forward to. It's a big game to start off with.
I'll let you know how things go over the coming weeks.
Take care,
David
David was seen arriving at a hotel in Rome today ahead of AC Milan's game against AS Roma on the weekend. Can't wait.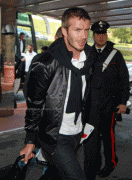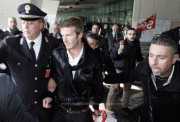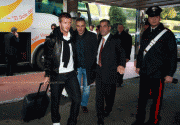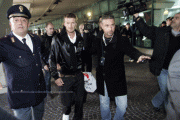 Source