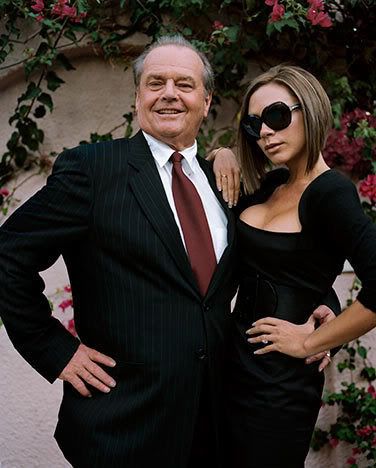 Wow. Can you believe it?
How Posh Came to Meet Jack
Photographer Lorenzo Agius ran into his friend, stylist David Thomas, at a car wash in Los Angeles and the two got to talking about work. David mentioned that he had recently worked with Victoria Beckham. He said Victoria told him that the one star she was dying to style was Jack Nicholson.
As it turns out, Lorenzo was scheduled to photograph Nicholson for PARADE magazine, so he and David pitched a great idea: Victoria Beckham would style Jack for the PARADE shoot. PARADE's editors loved the idea and everyone was able to make it happen. The shoot took place in the Presidential Suite at The Beverly Hills Hotel on October 29 and turned out fabulous.
Posh on Jack
Victoria Beckham tells Parade.com,
"I have always been a big fan of Jack Nicholson, and when the opportunity arose to work with him on this shoot, I was delighted."
Jack's daughter had hoped to stop by the shoot because she is a big fan of Victoria Beckham, but she had cheer-leading practice to attend. Silly girl, I would have ditched the practice to be in the presence of Victoria Beckham
Check out the shoot Victoria
styled here
.
LOVE the dress she is wearing.
Source