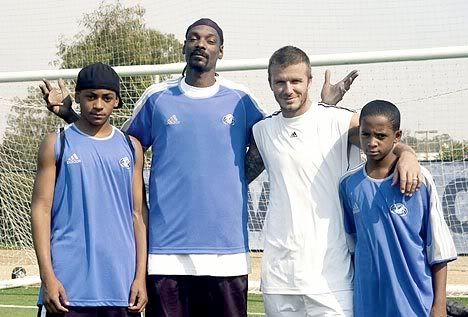 Snoop Dogg decided his children should learn soccer. They refused to practice unless their dad could persuade his buddy David Beckham to provide the coaching.
So when Mr Dogg called, David Beckham jumped at the chance.
David spent several hours with the rapper and his sons Cordé, 13, and Cordell, 10, and daughter Cori, 8, at their Los Angeles home, teaching them free kicks and dribbling tricks.
A spokesman for Snoop said:
"Snoop Dogg loves talking about celebrities he knows."

"His brood called his bluff when he claimed to know David and insisted on meeting him before they practised soccer."

"Snoop was really pleased to work with David, as he is a massive football fan.

"The children loved meeting their hero."
In exchange for the lesson, Snoop took Beckham to his favourite restaurant, Roscoe's House of Chicken 'n' Waffles.
Beckham's coaching session can be seen on the reality show
Snoop Dogg's Father Hood
on January 20 on the channel E! Entertainment Television in the UK, but you lucky Amercian's get to see it tomorrow night at 10.30pm on E!. (thanks to
jdg6385
for the US update)
Source