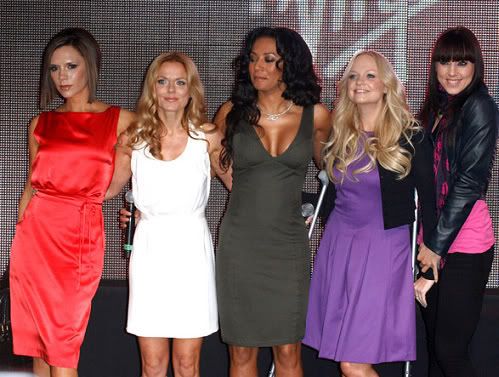 The Spice Girls, arrived back into Britain to start the UK leg of their world tour today. They opened
Virgin Atlantic's
brand new terminal at Heathrow. The girls were greeted by thousands of fans who were waiting to welcome them home in the new £1bn facility.
Emma, Geri, Mel B, Melanie C and Victoria, who flew in from Los Angeles after naming a Virgin Atlantic Boeing 747 jumbo jet
'Spice One'
yesterday, said: "We were overwhelmed that so many people were there to welcome us to London, we can't wait to perform for our UK fans."

Sir Richard Branson, President of Virgin Atlantic, commented:
"We are delighted to welcome the girls back to Britain today, having flown in on a jumbo Boeing 747 named
'Spice One'
in their honour, and pleased they could launch our brand new terminal."
Emma Bunton did not let a a sprained ankle from letting her wear her YSL tribute pumps. Emma took a tumble on stage, spraining her ankle, at the girls' Las Vegas show during the last of their U.S. dates earlier this week.
Her injury was unknown to fans until she photographed hobbling on crutches on Wednesday night.
I hope she gets better before my gig on 12 January.
Source
&
Source