ELLE's Creative Director, Joe Zee, spent two days in Paris dressing Victoria Beckham (and dodging paparazzi) for the January cover story. Here, he shares the details behind a day in life of one of the most watched women in the world.

Victoria was in Paris for our cover shoot and to attend the Louis Vuitton and Chanel runway shows. We were set up at the Ritz hotel—here, she was getting her makeup done by Fulvia Farolfi while her son Cruz was running around.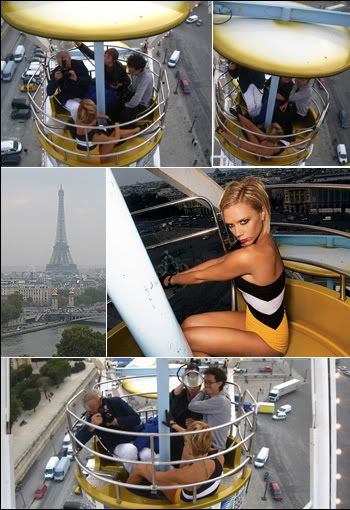 We're at the top of the Ferris wheel, with Gilles Bensimon riding in the car with Victoria and taking our pictures, while the paparazzi were swarming below, waiting to get their own pictures when she got off. It was the once place in Paris they couldn't get to!
One-shoulder swimsuit, $595, leather gloves, $395, both, Gucci, at select Gucci stores nationwide. Sunglasses, dVb, $250.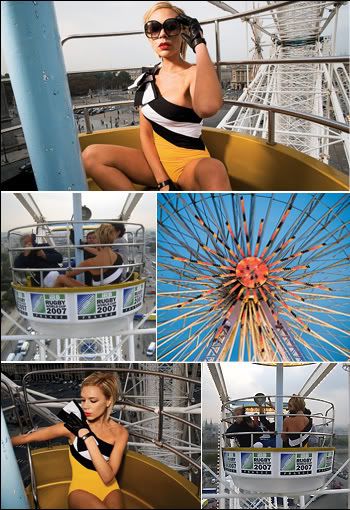 It was freezing cold and about to rain when we took this shot, and she's in a bathing suit, in a public place—who else would do that? Honestly, she didn't complain at all.
One-shoulder swimsuit, $595, leather gloves, $395, both, Gucci, at select Gucci stores nationwide. Sunglasses, dVb, $250.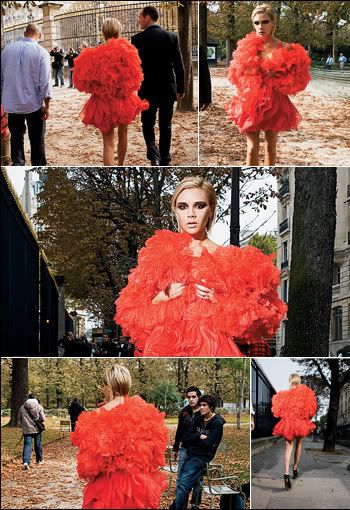 Look at these killer platforms! She walked down the street in them like they were sneakers.
Cropped feather jacket, Sonia Rykiel, $5,520, at Sonia Rykiel, NYC, Boston. Silk chiffon and organza dress, Zac Posen, $5,400. Wedge pumps, Nicholas Kirkwood, price upon request. Her own Chopard jewelry.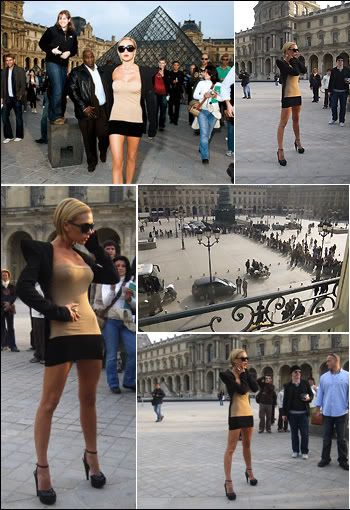 Here we're shooting outside the Louvre, with endless tourists angling to get a glimpse or a photo of her. Check out the crowds from her window at the Ritz.
Victoria drew quite a crowd in this Margiela look. One Japanese tourist cried when she met her!
Black shoulder-pad jacket, $1,195, stripe nude bodysuit, $545, both, Maison Martin Margiela, at Ikram, Chicago. Sunglasses, dVb, $250.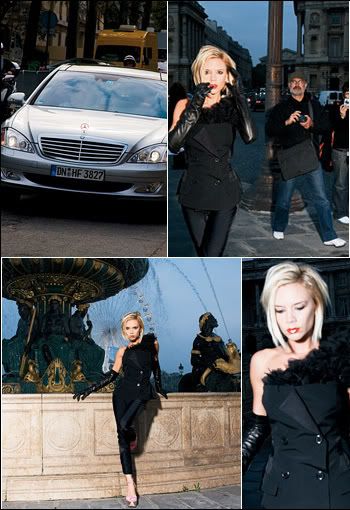 Here's Victoria's car, complete with a police convoy. We didn't even ask them to escort her—they volunteered. This Louis Vuitton tuxedo look literally came straight off the runway the night before.
Silk organza flower bustier, price upon request, wool-blend leggings, $1,350, both, Louis Vuitton. Black leather gloves, Marc Jacobs, price upon request. Platform sandals, Giambattista Valli, $900.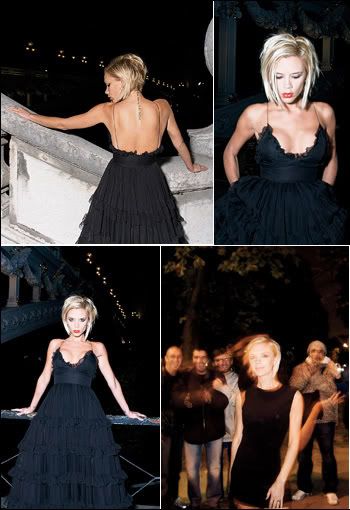 The paparazzi were applauding Victoria as she left for the night because she was so gracious and courteous all day.
Black tiered chiffon gown, Giambattista Valli, price upon request, collection at Maxfield, L.A.
This is right under the Eiffel Tower, with Victoria getting a touch-up from Fulvia—in another insanely high pair of shoes.
Chiffon dress with metal mesh details, Balmain, price upon request, collection at Oxygene, Bal Harbour, FL. Diamond ring, Vhernier, price upon request. Patent leather pumps, Walter Steiger, $695.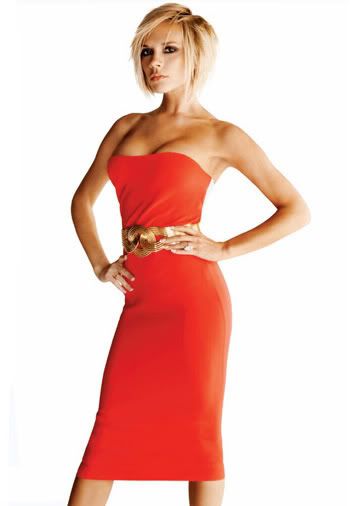 Stretch silk bodysuit, $850, silk crepe skirt, $1,065, both, Calvin Klein. Belt, Lara Bohinc, $1,960. Her own ring. (of course)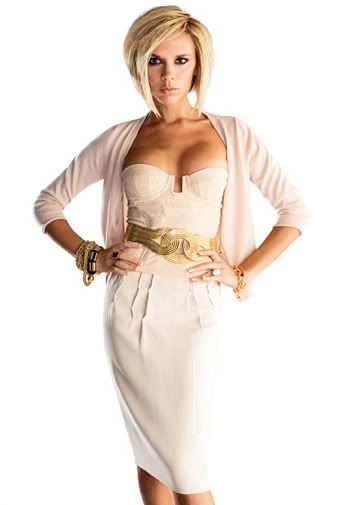 Cashmere cardigan, $980, tulle corset, $1,230, duchesse satin skirt, $1,180, all, Bottega Veneta. Gold-plate brass belt, Lara Bohinc, $1,960. Braided gold link necklace (around wrist), Bottega Veneta, price upon request. Link bracelets, Tom Binns, $635-$1,125. Gold and onyx bracelet, gold ring, both, Vhernier, prices upon request. Her own engagement ring.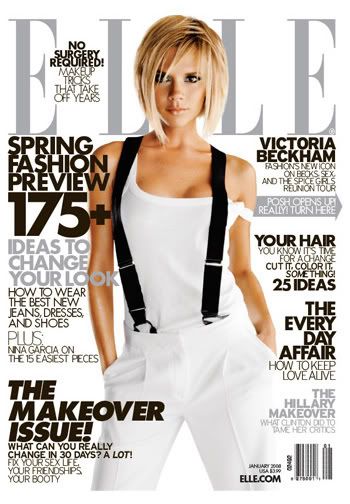 Cotton jersey tank, $290, suspender pants, $1,490, both, Dior by John Galliano.
Check out the January issue of ELLE for more from Victoria Beckham or
read the article here
.
View behind-the-scenes video of Victoria Beckham's cover shoot
Source