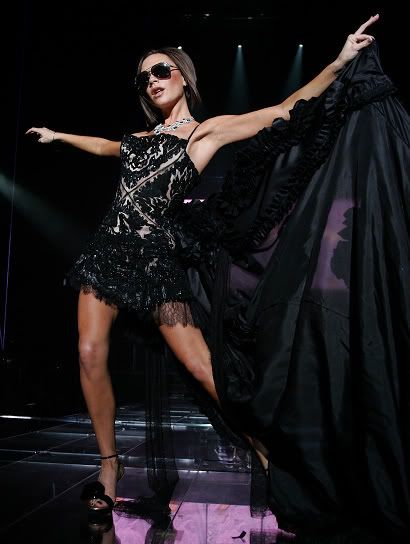 Victoria Beckham, as funny as ever, said at a Tuesday show,
"Thank You - you've almost made me smile."
At the press conference before the show on Tuesday, she was talking about England's new manager,
"I think it's great that Capello is the new England manager".

"David has a lot of respect for him."
It has been reported that for Christmas David Beckham brought his wife a £750/$1,500 fashion book. The book is titled
Valentino Garavani: First Name in Fashion
. It is one of just 2,000 copies and it features pictures from the career of Valentino and commentary from leading fashion writers.
I am glad it features pictures because back in 2005 Victoria famously admitted she'd never read a book.
Here are some pictures from Victoria's solo catwalk performance from Tuesday's show.
Source
&
Source