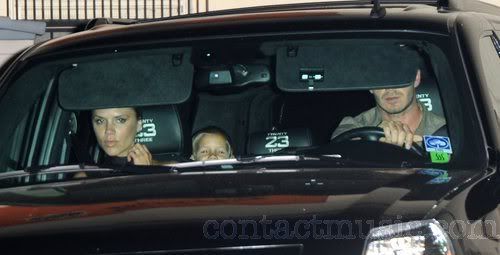 I hope this is not true, but there have been several report of a car accident involving the Beckhams.
David Beckham and Victoria narrowly escaped injury after the car that David was driving smashed into a wall in France.

The accident occurred last week (Aug 18) near the couple's French home in the village of Bargemon, close to the French Riviera, according to reports.

The couple had travelled to France to spend a few days at their retreat there, before the soccer star was due to fly to China to take part in the Olympics closing ceremony today (Aug. 24). David was driving to the airport in nearby Nice when the car accident occurred. In that region of France many roads are narrow and winding.

David reportedly sideswiped a stone wall, smashing the windshield and causing extensive damage on the passenger side of their black BMW sedan. Victoria was reportedly severely shaken in the accident, but the couple was said to be unhurt.

David was photographed embracing a tearful Victoria in the car and comforting her, before he raced to the airport with her father Tony Adams, where he caught his scheduled flight, leaving his distraught wife at the scene to handle the accident with authorities. No other vehicles are believed to have been involved in the accident, according to reports.
Like I said, I hope it is not true, as it sounds very terrifying.
UPDATE:
Unfortunately it is true. I will not post the picture, but you can view it on this
link
.
UPDATE 2:
I wish that this was not true as much as you all do, but in this
bigger picture
you can clearly see the damage to the car and the back of David's head with her trademark headband.
Thanks Victoriafan for the new picture.
UPDATE 3:
Another story is that it was the bodyguard who scratched the car, and the picture is of David and Victoria saying goodbye to each other before he left for Beijing.
But we all know that David always drives himself, and Victoria and David are both in the front of the car, so not sure about this story.
I think we all have to make up our own minds on what to believe.
Source