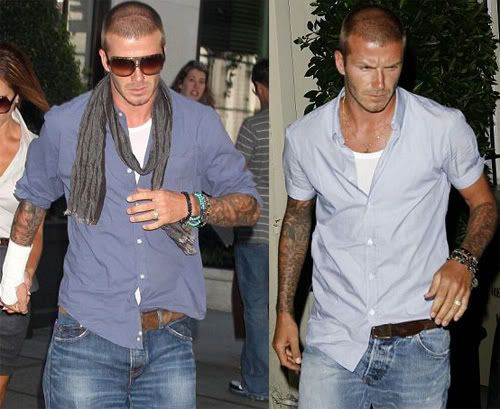 David Beckham is regarded as one of the best dressed men in the world, and while Victoria continues to opt for more chic fitted look, David keeps to a more relaxed style of low-slung jeans and a simple shirt.
Stepping out for dinner with Mrs Beckham earlier in the week David continued with his current ensemble of choice. Jeans? Check. White vest? Check. Open-neck, messily tucked in shirt? Check.
However, on closer inspection it appears more attention is given to his outfit than you'd give him credit, you might even call it an a trademark style. His shirt may look like it's been hastily tucked in but if we look back at previous pictures of the David, this appears to be a recurring theme.
David always lets the right side of his shirt hang out over the jeans.
Is he starting a trend, or is he always in a hurry and forget to tuck the right-side in?
Source