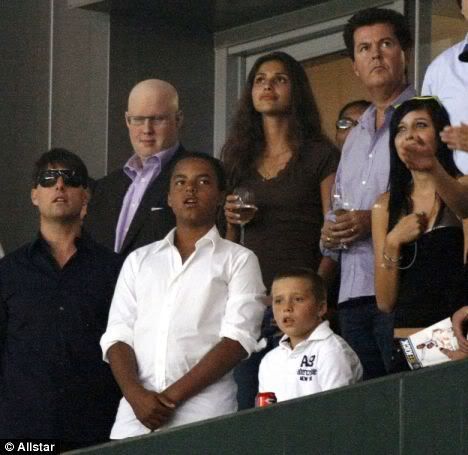 David Beckham friends supported him yesterday as he celebrated his first anniversary in the United States.
The Galaxy star was cheered on by son Brooklyn, Little Britain star Matt Lucas, TV producer and friend Simon Fuller as well as Tom Cruise and 13-year-old son Connor as his team played a tense derby against league rivals Chivas USA, from a VIP box at the Hope Depot Center.
The eclectic group shared in California as David played at the home LA Galaxy stadium.
The derby ended 1-1 draw in the clash.
The two teams now remain level at the top of the Major League Soccer's Western Conference table.
The Chivas had made their first goal when Ante Razov slotted the corner in the first in the first 15 minutes. From that point onward, the Chivas did a great job at shutting down the Galaxy offensive.
After 70 minutes, the game really started heating up. Galaxy player Edson Buddle managed to equalize the game on a wonderful assist from Pete Vagenas, finally tying up the game.
Source
&
Source